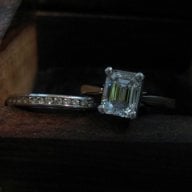 Joined

Jan 10, 2008
Messages

737
Hi Ladies -

Background - My FI and I wanted to keep our wedding small - around 80 people (HA! Its at 100). So not many people made the cut, close friends, family, etc. I sent out the invites, one was to my mom''s cousin and her husband. My mom''s cousin''s daughter REALLY wanted to come to the wedding too and actually assumed she was invited, so my mom called me and I was a baby and agreed. When we got the reply card back it was for 4 people, the daughter included a guest. I was slightly annoyed, but whatever.

So now as I do table arrangements and start to get the escort cards done I realize I don''t have the ''guests'' name. My mom called and she is bringing a girlfriend (no, not a relationship thing)! I guess I want your opinions, I am actually really annoyed by this. The daughter is 27! Ugh, I guess I feel like people are more interested in coming to chicago and seeing the city and reception than they are interested in FI and I. That was the reason for keeping it small....

Maybe I need a chill pill.