Joined

Aug 5, 2021
Messages

6
Reposting from antique thread, hope that's okay:
Hi!
My boyfriend and I have been looking online for an engagement ring and I knew from the beginning I wanted something antique cut (old mine), and something 3.5+ carat. I haven't felt super strongly around color (though I do like a bit of warmth), and clarity at least eye clean.
Recently we went and looked at a diamond, but I can't quite decide how I feel about it as it's tough to judge the cut on these older cuts. I would love to get any of your expert opinions on this! Some pics/videos I love it and then others I'm not sure.
Specs:
Carat: 4.23
Color: Q/R
Clarity: SI1 (mostly twinning wisps)
Polish: Good
Symmetry: Fair
Flourescence: Medium Blue
Dimensions: 10.61 x 9.27 x 5.88 (63% depth)
Another alternative would be to get a lab grown from a place like distinctive gems, but not sure how we feel about paying the same amount for mmd (though objectively better stats). Also I kinda love the idea of an actual antique.
Thank you all!
(think you can expand the videos)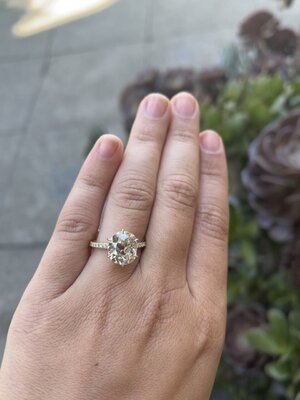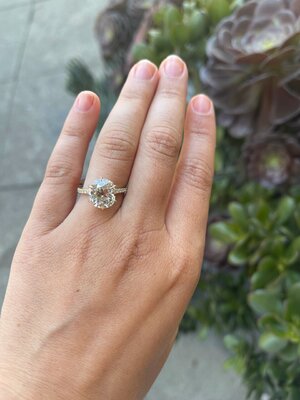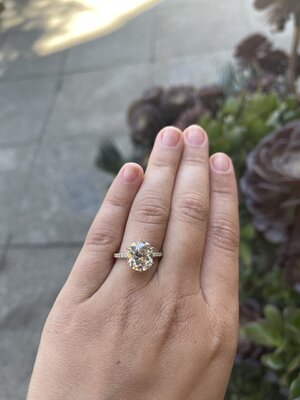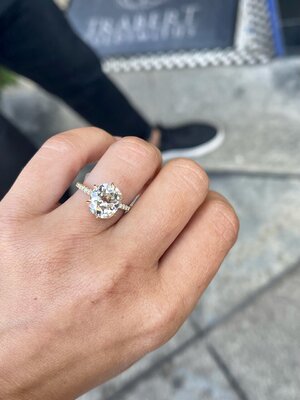 Last edited: