Dear PSers,
I'm looking for a best value diamond with high quality cut and ~8K budget. After searching through a few vendors, I now have my eyes set on this one from
Blue Nile
:
https://www.bluenile.com/diamond-details/LD14047235
1.41ct/3EX/I color/SI1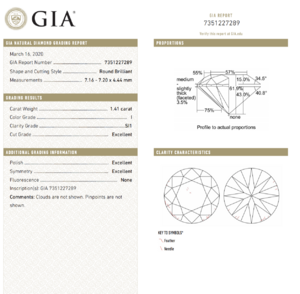 proportion seems very ideal, with an HCA score of 1.3:

Before purchasing it, I'd like to ask folks opinions here. Especially because it is an SI1, I want to make sure it is eye clean. I've asked
BN
to have it inspected by a gemologist, and will post update here. Let me know what are your thoughts on this one. Many thanks!