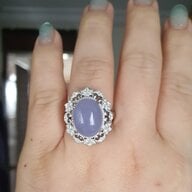 Joined

Oct 9, 2016
Messages

3,823
Hi All,

I think like most people, I've always thought that most if not all blue topaz are irradiated to get their blue and are exceedingly affordable.

Today, I was shown this natural unheated light blue topaz just a tat over 20 carats, that's supposedly from Mogok. It's inclusion free to the naked eye and has an even light blue colour. The dealer is looking at US$700. I'm told this is pretty rare to find and it comes with a prelim cert from an established lab here in Yangon. But it'll undergo another test at another lab to ascertain that it's really of Mogok origin and has no colour injection. A/c to my jeweller, in her 20 years of doing this business, this is only the 2nd time she has seen a naturally occurring light blue topaz.

I've tried good ol' Google but info is scant, as well as an indicative price. May I have your thoughts on whether this is indeed a rare find (for Mogok/Burma) and if the already bartered down price at US$700 for a 20 ct natural untreated light blue topaz is a good one? I like the size and finger coverage, as well as how it looks aquamarine-like in colour, but is a harder stone with a MoHs hardness of 8.

Pics to follow in the next post from my phone. Thanks, all!