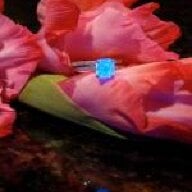 Joined

May 11, 2009
Messages

787
Hi all - I was rummaging through my jewelry box and came across a set I've had for years but haven't worn lately. They are my favorite color - and I used to wear them all the time. But the bracelet broke and two of the stones shattered so I just put it away for fear of more damage. Unlike the necklace, the bracelet was just strung together (and not knotted between stones) and it was a disaster waiting to happen - and I should have known better.
Now that I see them again, I wonder what the stones really are. It was purchased from an Australian jewelry shop in Newport RI (of all places) that closed years ago, and the owner told me they were blue Australian opals. I didn't care what they were - the color captivated me and they weren't terribly expensive. I also knew they weren't opals we are all familiar with - Australian lightning ridge black, crystal, or boulder opal, etc... but again, it didn't matter.
Now, I'm curious. The base color of the stones is much bluer than appears in the photos - they picked up more yellow in the photo processing and thus appear green. There really is no green discernible IRL. They are a delightful glowing turquoise blue with a hint of light aqua.
Anyway, have any of you seen stones like this? When held up to the light, they light up and some show the light source quite clearly.... I'd love to hear what you think!