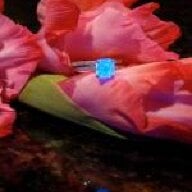 Joined

May 11, 2009
Messages

538
Hi all - I have an opal that David Klass is going to set. I'm super excited. This is my first go at having a stone set by someone other than the seller of the stone. Its also my first - from the ground up project. I'm turning to you experts to learn what I should consider and what settings might be good.
The opal:
Welo semi-transparent
Cut: Cab
dimensions: 17.84 mm x 13.61 mm X 6.51 (so its not small)
Weight: 8.12 ct.
It's got a ton of color and movement - super fun!
I bought it from Jim McCormick - who has been great - I am very happy with our interactions.
My RH size is 5.5, so I don't have very wide fingers. For that reason, I am not really thinking big halo - even though I dream of
@missy
's amazing ring. But this is not an Australian stone, and crystal so it behaves very differently and probably the diamonds would be more attractive to me than the opal - Lol.
My priorities:
I want the opal to be the star - and for the setting to get the best performance out of it.
It needs to be wearable in multiple circumstances (not just blinged out going out - because that's not happening for awhile and I have other stones still to set for those occasions)
I don't want it to be too big to wear, and its already on the bigger side for my hand (see pictures).
I don't want to pay a ton more than the stone - but already will be with the proposed simple gold halo. But I could be tempted...
David Klass (amazingly fast responses from him, BTW - awesome!) I sent him some inspiration pics (also posted in the thread linked below. He asked if I'd be ok with a thin gold halo, which I probably am, but then I wondered if it should be decorated in some way. He must have been reading my mind, because his next email asked if I would want any engraving on it. Lol Then I started to think about tiny bling in a thin halo..... (eye-roll).
DK sent me a few CAD renderings, but I don't know if its ok to share. But I think its ok to share the basics: approx 20 X 16 mm with the halo. The stone will be cupped. Ring size 5.5 Shank 2mm throughout. Height of the setting with the stone will be 7.4mm.
So, all you wise PS'ers. What would you do?
Any suggestions for basics since it's my first project (like shank shape, if I should plan to stack other bands with it, or other "I wish I had thought of that" learnings)?
Is simple the way to go?
Any inspirations for engraving? I LOVE flowers and vines... and have an obsession with taking photos of hummingbirds...
I'd appreciate your input - so excited to have my first real CS project underway!
Stone pics on super dry hands (RH & LH) - I hate winter!
View attachment 807892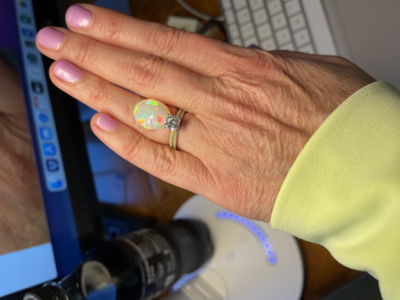 My first opal thread:
https://www.pricescope.com/community/threads/thoughts-on-this-opal-definitely-an-opal.263240/