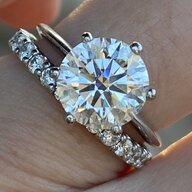 Joined

May 14, 2018
Messages

454
We are about to embark on an extensive home renovation and addition project, which I fully expect will take more time and cost more money than we anticipate. Since I will be neck deep in this project for at least a year and it will likely consume most of my time and discretionary funds for all things bling, I decided to upgrade my e-ring one last time (famous last words

) before we get underway. I traded my 1.85ct G VVS2 GIA EX EX EX for this 2.73ct G VS2 (eye clean) GIA EX EX EX with Adiamor, who were great when I dealt with them for my initial purchase and equally as great during the upgrade process. They even duplicated my setting at cost. My 1.85ct diamond was a FIC (CA 36/PA 40.6) and I really enjoyed it's fire and was concerned my upgrade (TIC) would disappoint in that department, but so far I am seeing plenty of fire and am smitten with her size and performance. She is fresh off the FedEx truck so, please excuse the hastily taken pics. For reference, ring is sized 5.75.
HCA
:
| | |
| --- | --- |
| Light Return: | Excellent |
| Fire: | Excellent |
| Scintillation: | Excellent |
| Spread: | Very Good |
| HCA Score : | 0.6 - Excellent - within TIC range |
Should sparkle beautifully and look a good size for its carat weight. Confirm with an Ideal-scope, ASET scope or send to an appraiser.
STATS
:
TABLE 56%
DEPTH 60.8%
CROWN ANGLE 34.5°
CROWN HEIGHT 15.0%
PAVILION ANGLE 40.6°
PAVILION DEPTH 43%
STAR FACETS 50%
LGF's 80%
GIRDLE 3%
9.0 x 9.05 x 5.5