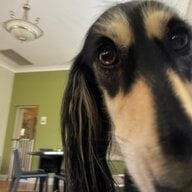 Joined

Jan 22, 2014
Messages

5,506
I posted earlier about my engagement ring re set. My fingers have got a lot fatter and my ring couldn't be resized up enough due to the setting. So I went for a new style with my remake.
Here in Australia, my old school jeweller doesn't do CAD or wax moulds or the like. He sits and listens while you show examples, point here, point there, say I want this more here ,less here etc and he goes away and makes it. You then get the phone "it's ready"
So you go in, feeling a bit sick, because what if what you said you wanted wasn't understood or worse,it looks awful "in the flesh".
The jewel box opens and your jaw hits the ground.
She was subtle and quiet before and now she is Hollywood pinup material.
And it broke my heart to leave her behind for her professional photo shoot and formal valuation.
I'll be back at their door 8am sharp tomorrow!!!
Here's a sneak (she's not polished up and has fingers prints all over - mine)