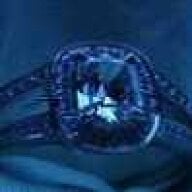 Joined

Feb 7, 2009
Messages

680
Spent a few months educating myself on diamonds. Sussed out her preferences. Narrowed my search. Discussed with experienced diamond buyers for opinions. Finally picked the e-ring. Kept it a secret from her for months while figuring out the best way to propose to her...and then I blew it.
That fateful morning, I had taken the ring out for a photoshoot before meeting her for breakfast. I had the ring box in the same pouch I kept my camera. After breakfast, I wanted to take a photo of her. As I took out the camera from the pouch, the ring box fell out. Imagine my anguish! I quickly made a grab of it and put it back in the pouch but she had seen it! And she guessed what it was! Whatever plans I had for a proposal went up in smoke!
"Omg, I'm such a spaz!" I groaned.
She laughed and gave me a hug. "That's why I love you! You can't help being a klutz whenever you're with me!"
"Just let me do this the proper way, ok? I can't believe I blew it!"
Sniffling a giggle, she agreed.
That happened a few weeks ago. And she had been teasing me about the surprise proposal that literally got out of the bag ever since. We laughed it off.
Last Tuesday, at around 6pm on 09.06.09, I proposed to her with the ring while we were lazing under a huge tree at the Botanic Gardens. She broke into tears, threw her arms around me and said "Yes." Needless to say, I was overjoyed.
I had a camera rigged to capture the moment in a video. She was surprised when I showed her the footage. But just seconds before the moment when I presented her the ring, the video ran out. It had reached it's recording memory capacity.
You can guess what happened next. Me: chagrined. She: laughing.
It's official. I'm such a klutz whenever I'm around her.
Here are some hand shots.