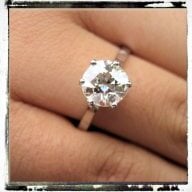 Joined

Apr 9, 2007
Messages

1,938
Could anyone tell me how significant in appearance the difference in size is in a stone of the same carat weight in each cut?

I know that OEC and OMC face up smaller, but by how much, typically?

Those with old cuts, are you glad you made that sacrifice?

From what I have researched, it seems I could get a larger older cut stone in my budget, but it may actually end up looking similar to the smaller RB of the same price.

Thoughts?


Many apologies if this has been covered, my search wasn''t very successful.

Thanks!