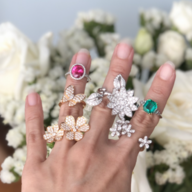 Joined

Apr 28, 2003
Messages

369
I made a purchase a few years ago from Adam at OWD and at that time he indicated that I could trade up in the future.
I contacted him recently and he is now saying that they no longer do trade-ins due to "ever changing prices in the diamond markets"
In this recent thread,
https://www.pricescope.com/community/threads/ps-game.225340/page-4#post-4074026#p4074026
, Missy posted (in September) that OWD has a great trade up policy, so I am confused.
I have emailed for clarification, but has anyone heard of the change in policy?
When I made my initial purchase, the trade up policy was an important consideration so I am quite shocked that it is no longer there.