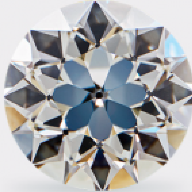 Joined

Jul 18, 2013
Messages

123
I love OEC's and am trying to decide if the premium on the modern ("ideal") cuts is really worth it.

For comparison's sake, I've found 3 similar stones via Grace,

Canera

, and

GOG

, linked below. Would you more experienced Pricescopers mind helping me understand what you're really paying for in each instance?

Grace:

http://www.jewelsbygrace.com/loose-diamonds/1-ct-to-2-00/1-58ct-old-european-cut-diamond-gia-i-vvs1#.V0M1u_krK70

Canera

:

https://www.victorcanera.com/diamonds/dahhmu-1.505-i-vs2-ideal-estimated-old-european-cut

GOG

:

http://www.goodoldgold.com/diamond-search/1.56-AVR-I-AGS-H-SI1-diamond-stock-12642-cert-104074214002 Grace Stats:

$12,695

1.58 ct

GIA I VVS1

7.32 x 7.37

Polish: Good

Symm: V Good

Table: 52%

Depth: 63.2%

Canera

Stats:

$14,930

1.505 ct

GIA I VS2

7.23 x 7.25

Polish: Ideal

Symm: Ideal

Table: 50.8%

Depth: 63.4%

GOG

Stats:

$15,112

1.564 ct

AGS H SI1

7.17 x 7.21

Polish: Ideal

Symm: Ideal

Table: 45%

Depth: 67.5%

In this comparison, it seems to me that the Grace stone is the clear winner. I can't imagine the gap in polish/symm between good/v good and IDEAL is worth the loss of weight, color, and clarity (not to mention the much larger price tag) of the modern stones. Is it??

I guess what I'm trying to say is the only difference I see between well-cut vintage OEC's and the modern OEC's is the polish/symm ideal that they just could not get in the old days. Does the ideal/ideal of the newer stones really make the increased price worth it? If the sparkle and perceived size/color really change a lot with the ideal, I can see the premium being worth it, but not if it's just words on a piece of paper.