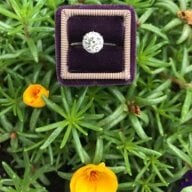 Joined

May 25, 2016
Messages

308
I sent an email to Adam at OWD about possibly meeting with him when I am in NYC next month.
I plan to go to his store either way, but would love to talk to him if he is around.

I am googling - but wonder if anyone else can recommend NYC/diamond district vendors?
I am pretty set on finding an OEC. But I'll take other recs - in case I hate OECs in person.

I am just now remembering that I should also click on the "resources" tab. I will do that, too.
Still, I would like recs from regulars here.