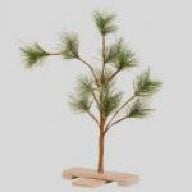 Joined

Jan 18, 2012
Messages

514
By the way -- I would 100% love it if someone wanted to cut some stones like
@dreamer_dachsie
/
@arkieb1
/ mine: these shallow, biggish-tabled, chubby-arrowed trannies. I have an AVR, and it is objectively a beautiful stone, but somehow the performance is not such a love-of-my-life like this 1.30ct. AVRs are floral, these stones are checkerboardy and that's the performance I love. Arkie did a rundown of this sort of stone (at least, I think it's appropriate to lump them, although she specifically differentiates hers from Dreamer's!) in her post introducing Charlie.
...unlike Dreamers stone which is no secret I have coveted forever, this one has a much bigger table and fatter arrows than JJCs stone. I actually asked poor Erica a zillion times if it had the arrows in real life because many trannys show contrast patterns with them in some photos, but in person you cannot see them at all in real life. This one shows them in low lighting and is a chunky checkerboardy blaze of fire the rest of the time. It's the best of both worlds I think. Dreamers is a early American cut or a type of OEC both her stone and Dems stones have much smaller tables, this is tranny with really really fat arrows, if I had a choice I would pick this style of stone with a smaller table but they are difficult to find over 2 carats so it's a matter of taking what you can get;
Dreamer has already confirmed that her stone is one of these shallow/biggish table, and Arkie mentioned hers has a big table though I don't see its depth reported anywhere.
@arkieb1
,
@dreamer_dachsie
-- do the numbers we're talking about here sound like your stones? Shallow, largeish table, mid-range (65%ish) lower halves? What about Coati's 2.94ct M-N?
It is definitely a different flavor from the AVRs/CERs of the world and I don't think it's been adequately described/investigated. IMHO. Because I want to buy a BIG ONE when I grow up.