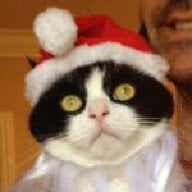 Joined

Oct 7, 2004
Messages

4,640
Yeah, I agree with with DS. You gotta use your eyes and throw those numbers out the window. And I say this as a consumer and risk taker who has purchased over 100 old cuts based on a few crappy pictures alone, most with no return policy, then sent maybe half of them to GIA... the numbers don't tell anything a good pair of eyes can't instantly see in a glance. I would NEVER tell someone "this is a good oec based on numbers", because it could possibly look like crap.
Also, I sold a 42% table graded OEC by GIA with perfect little flower petals, so those do exist and your assessment isn't accurate. Only three out of the four criteria need to be met, so the OEC designation doesn't require the lower half facet length to be 60% or more as long as:
1) the Table is 53% or less, 2) crown is 40 degrees or more, 3) culet is slightly large or bigger.
However GIA requires this length to be equal or less than 60% in order for a diamond to qualify to be called an OEC.