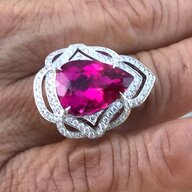 Joined

Dec 26, 2017
Messages

1,297
DW is considering an ER upgrade and has fallen in love with OECs. We have been able to see a number of OECs in person over the last few weeks, and for every one that looks pretty good, there are three or four that are just blah. One of the problems is when you walk into an estate jeweler it's more than likely they don't have GIA certs for what they claim are their OECs. Unfortunately even if they do have a GIA stating a stone is an OEC, it's just as likely the stone will not be beautiful.
There is a huge difference between GIA certs for MRBs and OECs. An MRB cert will tell you just about everything you need to know about the cut of that diamond. The only cut data on an OEC cert is table and depth, and that is just about useless when it comes figuring out if the diamond is going to be beautiful.
I've learned a lot here on PS as to what makes some OECs so beautiful, but all the knowledge and shared wisdom seems to boil down to "you'll know one when you see one". Given we have so many cut experts here on PS I'm hoping we might be able to temporarily borrow some of that expertise to help put some numbers on the cut proportions that make some OECs so beautiful.
In order to classify the type of cut, GIA must measure all the proportions of OECs, so quite why they don't put them on the certs is a mystery.
@PreRaphaelite
kindly shared with me the criteria that GIA use to classify round diamonds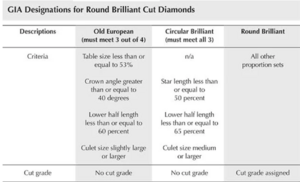 So maybe these criteria point us in the right direction to determine what proportions might be important help identify a beautiful OEC.
1) Table size less than or equal to 53%.
2) Crown angle greater than or equal to 40°.
3) Star length less than or equal to 50%.
4) Lower half length less than or equal to 60%.
5) Cutlet size medium or larger.