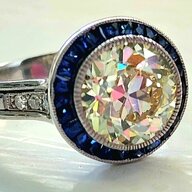 Joined

Jul 10, 2017
Messages

1,361
I've started the hunt for the "one". I'm hoping this will be my final ering. I expect this will take some time!
I know I really want a largish culet and lots of kozibe. Table not too large. I want some warmth, like K or lower. Hoping for about 2.5 +/- ct, to be in the 8.5 to 9mm range. Budget wise, I'm hoping under 20k.
I've read through tons of oec threads, but still not confident I know what to hunt for.
So does anyone have ballpark % for table, pavillion, overall depth for a good light return, active flowery petals, no fish eye?
Like table between 42-50%? What happens at 41?
Overall depth 60 to 68%? Is 58 too shallow?
And then the inclusions! Is a crystal bad? Cloud? What is a bruise? Is a feather bad near girdle if I'm planning to bezel the stone?
I'm crosseyed from searching, narrowed down to only 64 diamonds on OWD...
I have an AVR moissanite now and could not pinpoint why I'm the oddball that isn't thrilled. Great light return, active petals, bright and firey....but NO open culet, NO kozibe. Not MY dream oec.
Here are pics of stones I like, most sold, just to show what look I'm hoping for.
Any advise appreciated!