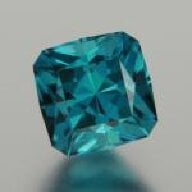 Joined

Jan 18, 2008
Messages

9,758
So, with any luck my new OEC/transitional diamond, 0.47cts, should be here tomorrow - or if not hopefully very soon after!
This stone was always intended as a pendant necklace - and (I''m pretty sure) I''ve decided to go with a bezel.
Thanks to the lovely ladies from Jewels by Erica Grace and their recent gorgeous production of the below cushion bezel pendant, I have a steadfast "inspiration" piece.
Just on a quick sidenote, its an incredible piece, and I hope a PS''er ends up with it! I also want to thank Grace for her generousity in letting me reproduce a similiar design with a local jeweller, I hope it turns out half and nice


So now I just have a couple details to work out though, and I''d love some input. I was going to create a poll, but I though that may be overkill for this, lol..
My main question - to milgrain or not to milgrain ??
This is an antique stone, but I definately want it to be an "everyday" piece. I''m torn whether to add the milgrain and have that distinct "vintage" feel, or just to leave it plain.
The second question - should I have it in two tone gold? I want it to be yellow gold, as thats what I mostly wear, what my ering is etc. But the designer has suggested not to go with a YG bezel with milgrain, as it may look odd - and I think I agree.
So the choices are:
~ all 18K WG, both bezel and chain.
~ all 18K yellow gold, and leave the milgrain off.
~ or, white gold bezel and yellow gold chain.
In all honesty, I am leaning toward the last option, but I couldn''t find pics anywhere of a 2 tone bezel pendant, so I would love to hear what others think

Also, if you think a bezel is all wrong and to go prongs or something, I''d love to hear that too!
Thankyou for reading this far,
Pics to follow !