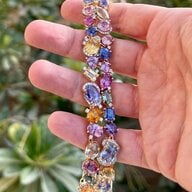 Joined

Oct 1, 2015
Messages

1,689
So I am starting a thread on this project because it's a bit more of an adventure than my usual ones.
For several years now I've been wanting to get an OEC three stone. My best friend's mother has one and every time I see her I drag it off her finger to try on and drool. However where I live old cuts don't exist. This country is new, the jewellery is new, there is really no concept of "antique" in diamonds here (although there is a long and wonderful history in pearls which I have yet to delve into).
I've looked at some old cuts when back in the U.K. but they are so prohibitively expensive, and also extremely hard to come by (so many have been recut).
So that left the US.
I'm an avid searcher of Instagram when it comes to gems and jewellery but never managed to stumble across the right combination of specs and price. Until a few weeks ago.
A jeweller in the US that I follow had posted an OEC on his Instagram page and, more out of curiosity than anything, I asked for the price. It was a lot more reasonable than I thought. Then, also just on the off chance, I joked "I don't suppose you've got a pair of matching OECs to go with that?!". Guess what? He did!
Now I admit that I am a bit of an impulse buyer but this was another scale. I just said, go for it.
Over the past couple of weeks he sent me a CAD, which we refined a bit.
Here is the first draft. Based on an inspo photo I sent.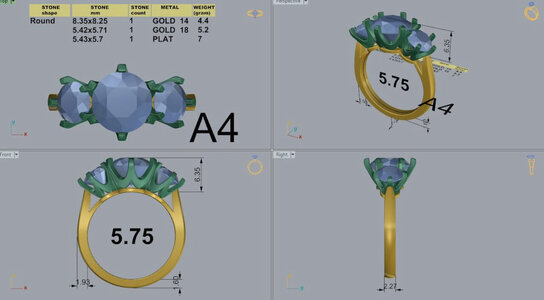 I loved the side view but the prongs at 6 o'clock and 12 o'clock bothered me. I also felt the shoulders needed to swoop a little more, the shank should be rounded so it felt less modern and the platinum basket and prongs be a little more delicate - but still sturdy.
So I provided some feedback and eventually settled on an eight prong setting instead of six. Which I feel has a more old-world feel. The modified shank and shoulders I think give it more elegance but it's still robust enough to last as a heirloom piece.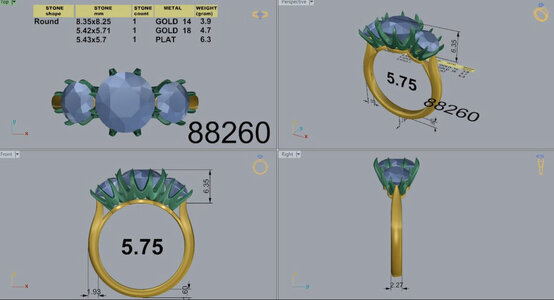 Having agreed the design, the work is now in progress. So I turned to a tax calculator to work out the import duty on this little prize. Well 10% tax on arrival added up to quite a sum. I joked to my husband it would be cheaper to fly to LA and pick it up myself.
Then on a whim I decided to actually google how much a flight to LA would cost. My jaw nearly hit the floor when I saw I could get there for $650. With a stop over in London to see my mother on the way!
That was it. I booked the flight then and there. So beginning of March I'm off for a long weekend (3 nights) to the City of Angels!
If anyone has any tips on "must not miss" sights in LA please let me know!