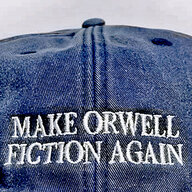 Joined

Apr 30, 2005
Messages

26,766
I teach guitar; some students are minors.
To keep them more engaged and interested I ask them to bring in songs
they
want to learn.
Of the 5 or so songs I pick the one with level-appropriate musical challenges.
Sometimes the lyrics or their videos contain sex, violence, drugs, the F-word etc.

I always first privately show the parents the video and lyrics to get their approval.
Parents always thank me, and never
yet
has any parent said no to any song.
One long-time student is 17 years old now and I'm getting him to play guitar at a local open mic.
He wants me to play guitar too and his girlfriend to sing, since he doesn't, so
she
is suggesting songs they both like.
She wants to do, "Love on the Brain" by Rhianna.
Have you read those lyrics?
It's not just the 3 F-bombs, it sounds like it's about how much she loves the abusive relationship she's in.
To show the lyrics as you watch the video, click on the CC at the bottom.
If the lyrics don't appear click on the wheel thingie and turn captions on, and pick English.
If you can't turn the captions on, here are the lyrics:
https://www.azlyrics.com/lyrics/rihanna/loveonthebrain.html
Maybe I'm an old prude but I wouldn't let my teenage daughter sing this in a coffee house.
Kids may be present.
Of course I will ask the parents before going forward with this song, but what are your thoughts?
Ok or not okay?
I remember how upset parents got in the 1950s over the gyrating hips of Elvis.
Back in the 1920s the older generation was all bent out of shape when The Charleston dance became all the rage of the young folks.
Is resisting this "progress" futile?
Last edited: