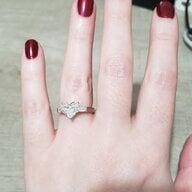 Joined

Nov 15, 2019
Messages

831
can someone explain why the numbers/ideal specs are so important as opposed to what our eyes see and love?
Often people ask advice & posters ask about many numbers, idealscopes & angles and so on.
I'm not mathematically inclined at all and my head swims.

Why not just trust our eyes to guide us to a stone we love, even with less than perfect numbers?

When I went diamond hunting (before my ps days) I saw a stone that supposedly was IF but the facets were so badly cut that even to my untrained eyes it looked terrible.

Like I have no idea of the best proportion or ratio for a heart but to my eyes it's not too fat or skinny so it looks great.

I would love to understand what I'm not understanding about the importance of all these specifications.