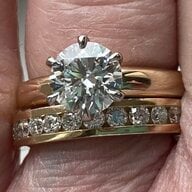 Joined

Feb 27, 2007
Messages

24,781
Hi NIRDI's!
@missy
the week is going fast. I would really have trouble drinking that much water and not getting rid of it. I did it decades ago but it would be way more difficult now. Glad at test is done.
@MamaBee
I am sorry you are worried about your mom; big hugs to both of you.
@bling_dream19
any new jewelry on the way?
@junebug17
enjoy visiting with your DS and eating some delicious pizza. I may order a thin crust pizza in for supper. I have some leftover pan pizza in the freezer I take to work for lunch sometime and I just can't stomach it anymore. I believe I'll pitch it and go for thin. It's too much cold.
I got up at 6 and had to run the trash can out for pickup. It's our local "Day" which includes a free pancake breakfast (which is actually very good) but I made my own pancake and had a peach with it. Then I ventured outside to watch for planes. The Thunderbirds started at about 10. I shot a few videos with my phone but Marty brought out his camera with zoom lens and got some pictures. The sky is so hazy from smoke it was hard to find them at times but I always enjoy the show. We saw a B52 fly by as well; but didn't get a decent picture of it since it was so far away. A B-1 Bomber was supposed to fly over as well but if it did we didn't see it. I dead headed our flowers while I was outside, got most of the club's newsletter done for August and did a batch of laundry. I did my lifting as well so for being lazy today I was busy. We ordered Door Dash for lunch and had burgers delivered. I got myself a double and cut it in half so I can use the other half for lunch tomorrow. I debated baking cookies but hated to heat the house up for something I shouldn't be eating anyway.
Take care.
Marcy