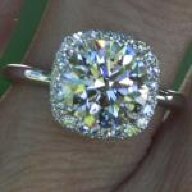 Joined

Sep 22, 2013
Messages

325
Hi All

I have been longing for a classic, diamond pendant to wear on a daily basis. I think I have convinced hubby this is my gift for Christmas. I'm not sure where to start…diamond size, style/setting (pros/cons of bezel vs. non bezel), chain size & style, metal, etc. I've been interested in seeing an OEC in real life. Would it be wrong to have an OEC pendant, but modern cut for ER and earrings? Would you even be able to tell in .5-.75 ct? For reference I have ~1.8 ctw diamond studs (white gold) that I wear often. My ER is a 2 ct ACA with Emilya Cushion setting (platinum). Budget is probably between $2.000-$3,000, would be nice to stay closer to the $2k side.
Also, with a pendant I do not need to spend the premium for a super ideal cut. I obviously just don't want a dud.
Any suggestions on where to start? I have been looking around on pricescope/online and did see these settings that caught my eye. Although I don't think I would like the gaps in the first setting.
http://www.jewelsbygrace.com/custom-work/72ct-old-european-cut-diamond-bezel-pendant#.WEDvEX1RS_A
http://www.jewelsbygrace.com/custom-work/65ct-old-mine-cut-diamond-bezel-pendant#.WEDwVX1RS_A
Thanks!