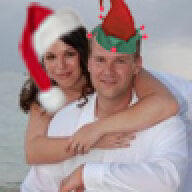 Joined

Jan 8, 2007
Messages

3,962
I thought as a follow-up to TGals "things you won''t live near" thread and Beau''s redecorating thread, it would be fun to list the things that we consider deal breakers when looking for a house. When we bought the current house we live in it was all the manufacturer''s original stuff from the tile to the countertops. So, needless to say I started making a list about a year ago of things that I''m not willing to deal with again when we "upgrade" our house. lol.
Here''s my list so far....
No popcorn ceilings. We''re leaving it, cause it''s just not worth the hassle to get rid of it. Next house won''t have it though!
No tile countertops: Huge PITA! We recently replaced them, finally.
Washer/Dryer on the same floor as the master bedroom: I hate carrying laundry up and down the stairs.
No carpeted stairs: I''d give anything for wooden stairs that I can just sweep!
Carpet that is less than 5 years old, if we have carpet at all: We''ve since replaced all the carpet downstairs, but I don''t want to do it again.
Window overlooking the kitchen sink. I don''t know....I just want one!
Vents in all the bathrooms. Our master bath doesn''t have a vent, and all the paint is peeling in there. No idea whose bright idea that was.
No textured walls: We have "popcorn" walls. Not as bumpy as the ceilings, but still bumpy. It''s really easy to chip the paint and it''s really hard to make it blend when you''re remodeling...the canned stuff just doesn''t work. It''s also hard to make a clean line when painting (a nightmare where the wall and ceiling meet), and it''s even harder to simply hang a picture evenly!
But besides that, I love our house. It''s been an adventure.