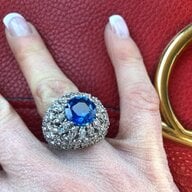 Joined

Dec 25, 2019
Messages

147
So I'm relatively new to lab created gemstones and I'm wondering what accounts for the big disparity in price? I've seen 3 carat precision Cut lab sapphires for a couple hundred dollars and then for a couple thousand!
I searched this thread and didn't see an answer so apologies in advance if this has been covered already.
If so, please gently direct me....
TIA!