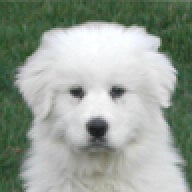 Joined

Apr 15, 2009
Messages

205
Hi all,
I''m so glad I found this site. What a wealth of information! I''m looking to replace my wedding ring and want to go with a sapphire, either blue or yellow. I think I''ve narrowed it down to a couple options, but I''m not sure what I like best and was hoping to get some opinions to help me make up my mind. My taste runs somewhat modern, not too frilly or intricate, and a little bit different from the norm, so if you have ideas other than what I''ve listed, I''m all ears!
Option #1 - This blue sapphire ring from Color Symphony:
Princess Cut Sapphire/Diamond Ring
Does the sapphire look like it''s got decent color and cut? Does the ring look well made? I really like the style, my only hesitation is that the stone is a bit smaller than I''d ideally like. Would a 5.7mm stone look too small on my size 8 finger?
Option #2 - Buy a stone and have a setting made.
I must have looked at hundreds of settings, but haven''t found "the one" yet. Here are two that are closest to what I envision (I hope my picture shows up). I''m open to either a round or princess cut, either yellow or blue. If I use a blue stone, I''d want white gold for the entire ring. If I go with a yellow stone, I''d like the bezel to be yellow and the rest of the ring to be white. I could easily do away with the side diamonds if I need to. I was thinking about maybe a stone from Richard Homer and a setting made by Wink Jones/Winfield''s. I''d like to keep the cost to no more than $4,000 - do you think a custom ring is doable on this budget?
Thanks for your help.