Hi, all!
It's my first time posting here, and I appreciate any help I can get!
I'm looking for a yellow diamond right hand ring and am considering a few options from Diamonds By Lauren. I'm unable to see any of the options in person, so am a little nervous about buying anything that I haven't seen in person.
My criteria:
-Budget: under $5,000
-Cuts I'm open to: cushion, square radiant, princess
-Clarity: Anything up through SI2. Overall I care more about getting a diamond with maximum brilliance rather than a flawless one.
-Size: at least 6mm x 6mm (around 1.5 ct).
-Setting: halo
-Color: as close to fancy yellow as possible for my budget (I realize I'll have to stick with W-X-Y-Z)
Curious what folks think about these options below? Note that David from DBL has already confirmed that he can put the first 2 stones in a halo setting that fits within my budget. So really just seeking advice about which stone is likely to look the best in person, and whether there are any red flags that stick out about any of these options?
Thanks in advance!
1. 1.70ct / SI1 / Y-Z color:
This is a stunning 1.70ct Y-Z SI1 Cushion Cut Diamond. The color on this one is so strong for a Y-Z color and the cut is amazing too.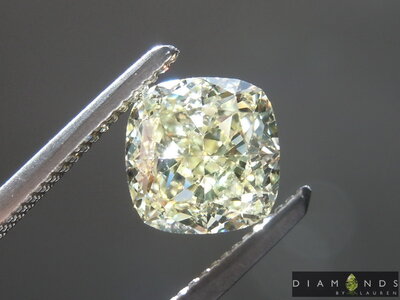 2. 1.54ct / IF / Y-Z color:
This is an amazing 1.54ct Y-Z IF Cushion Cut Diamond. The internally flawless clarity is not the only amazing thing about this stone.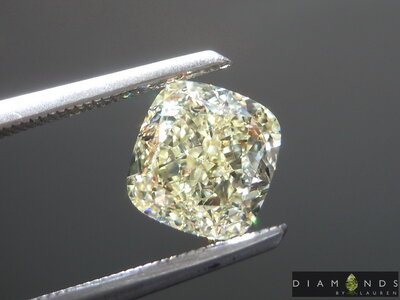 3. This stone is already set in a ring: 1.5ct / SI1 / W-X color. I'm unsure whether I want to go with a bezel setting (if I choose either of the above 2 stones, I'd likely go with a prong setting).
Images:
http://www.diamondsbylauren.com/index.php/jewelry/150ct-w-x-si1-cushion-diamond-r8886
Video: