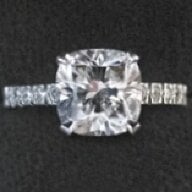 Joined

Apr 9, 2007
Messages

342
Hi all,

I stumbled upon this website and I am hooked! I was recently in Tiffany and tried on the Novo. I thought it was really beautiful but of course don''t want my boyfriend to pay that premium. Is this ring a modified brilliant cushion or a brilliant cushion?

Another question about cushions since I have not seen too many (most stores I have been in don''t carry them) - are they always less sparkly than round brilliants? I like round brilliants too but would like something a little more unique.

Thanks so much and sorry for my ignorant questions!