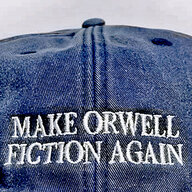 Joined

Apr 30, 2005
Messages

32,968
Long, but worth reading:
http://www.newyorker.com/magazine/2014/11/03/grain?utm_source=tny&utm_campaign=generalsocial&utm_medium=facebook&mbid=social_facebook
Cliff Notes, quotes in blue:
Only about 1% of the population have celiac disease, yet
"nearly twenty million people contend that they regularly experience distress after eating products that contain gluten, and a third of American adults say that they are trying to eliminate it from their diets.
...
Sales of gluten-free products will exceed fifteen billion dollars by 2016, twice the amount of five years earlier. "
...
"The fear of gluten has become so pronounced that, a few weeks ago, the television show "South Park" devoted an episode to the issue. South Park became the first entirely gluten-free town in the nation.
Federal agents placed anyone suspected of having been "contaminated" in quarantine at a Papa John's surrounded by razor wire.
Citizens were forced to strip their cupboards of offending foods, and an angry mob took a flamethrower to the wheat fields."
...
"Doctors rarely diagnose non-celiac gluten sensitivity, and many don't believe that it exists.
Few people seem to have been deterred by the lack of evidence.
"Everyone is trying to figure out what is going on, but nobody in medicine, at least not in my field, thinks this adds up to anything like the number of people who say they feel better when they take gluten out of their diet," Murray said.
"It's hard to put a number on these things, but I would have to say that at least seventy per cent of it is hype and desire.
There is just nothing obviously related to gluten that is wrong with most of these people.''"
I certainly do not want to make fun of people who
actually
do have the medical condition celiac, but regarding the
other
millions of anti-gluetnites ... as a wise friend said ...
"Imagine if, in 2004, someone told you all about how the gluten free revolution, or fad, or whatever, would unfold over the next decade.
Then they said 'guess which ones of your friends will discover they are gluten intolerant by 2014'.
I'll bet you you could have guessed with 80-90% certainty."
I agree.