I'm so sad and heartsick about this -- I'm not sure if RT is the right forum for this, but I thought I'd try here first because I know you ladies would understand.
I recently got a massive raise at work and to celebrate I splurged on this RHR from a well regarded seller on eBay. His name didn't come up here at Pricescope, but given his stellar ratings I was (and still very much am) confident about doing business with him. Here's the a picture of the ring attached.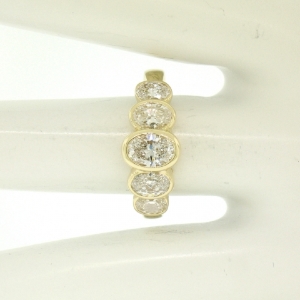 I know it's not a perfect ring by any means, but it was perfect for ME -- 2 cttw of FIVE well matched and graduated ovals, yellow gold, already the perfect size so I could wear it right away. Knowing how hard it would be to independently source those stones alone and still beat the price it was going for, I made an offer on eBay and to my surprise, it was accepted!
The seller sent it through USPS registered mail with signature confirmation, fully insured. Everything was business as usual, like all the other times I've received jewelry through USPS before, until last Saturday morning when it arrived at my local post office and went out for delivery.
To my surprise, when the mail showed up that day my package wasn't there. I had ordered some books off of eBay as well, and those were supposed to have come that day, too, according to tracking. No ring, no books. No big deal, I thought -- maybe the carrier hadn't gotten around to delivering it that day and needed to come back another day. The tracking showed that it was delayed and will be re-delivered another day, but the system would not let me reschedule delivery. No delivery slip was left in my apartment mailbox, either.
Strangely, the box with my books showed up Sunday on my porch (in my neighborhood only Amazon packages get delivered on Sundays). No ring, though.
I went to the post office yesterday after it failed to show up Monday and Tuesday -- the supervisor basically turned the place upside down looking for it and wasn't able to find it. He called the carrier and she got upset, insisting that she DID deliver the packages Saturday but just didn't scan them as delivered. This is nuts because 1) she's not supposed to do that and 2) the seller paid for signature confirmation.
This morning she knocked on my door clearly distraught and asking if I got packages on Sunday. I said I did, just one and not the one I'm looking for. She starts to get upset and said that this will be docked from her pay, and she's afraid of losing her job. She was really upset at me for reporting her.
Later today, the supervisor called me and told me that since the tracking said it was never delivered, the sender could file a claim and would likely have it settled.
The seller is very calm and reasonable about this-- I've kept him informed of what I've done and we're working together to find the most optimal solution for the both of us. It's the mail carrier I'm heartsick about. I don't want her to lose her job -- she's very young and based on our conversation she doesn't come across as that bright or responsible, but I'm not going after HER and didn't even know that it was at all related to her when I reported this package missing. I was honestly hoping it was stuck in some bin at the Post Office, and now that it's not and the PO is pointing their fingers at her, I don't know what to do.
I wish I could take this all back somehow... I'm still swooning over the ring but wish I'd never ordered the stupid thing and started this whole mess.