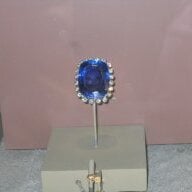 Joined

Sep 5, 2003
Messages

2,369
Inspired by
@lovedogs
, I recently took a major leap of faith and purchased a Tiffany solitaire and matching knife edge band off eBay. It's a long story- the basic gist is that it was a divorce ring and the seller was definitely motivated to get rid of it. His pictures were terrible, but I had a good feeling about it and it was in my size, so once it arrived, I ran to Tiffany to get it polished. As an aside, the polishing cost $50 and it took about 2.5 weeks, which seems really long to me. It's an I, SI1, with MB fluorescence. My 43 year old eyes can't see any inclusions and couldn't with a loupe either. It scores a .8 on the HCA and per Tiffany, is a triple excellent (though the crown angle is slightly out of ideal range).
I also purchased the matching band from a Japanese seller and that it arrived in 3 days, which was incredible. Even though the band was also my size, I wanted it a half size bigger and for some reason, Tiffany sized it and shipped it to my house for free. It also took 2.5 weeks.
Both rings are older- the ering is from 2014 and I'm not sure about the age of the band. I was surprised to see that the height of the band is much shorter than the ering height. I tried on some present day bands and they are a little bit higher but much sharper and therefore uncomfortable to my fingers. Because I got such a steal on the band and due to the comfort issue, I decided it wasn't worth buying brand new to match the ering height better.
Anyway, I love this ring!! The ering itself is heavy and very comfortable! When I first got it, it seemed so small compared to my haloed 1.35 but now that I've worn it all most exclusively for the past month, the size seems quite respectable. Reverse DSS, maybe?? And, I got them for under $2k!
Last edited: