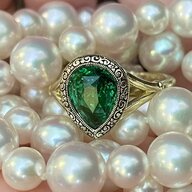 Joined

Mar 2, 2009
Messages

12,610
So I rewarded my spring cleaning by buying this ring from DT. I've always loved the look of clean lines and have been wanting something bigger for a statement piece sort of ring. All my rings this far have had smaller stones because I generally prioritize color over all else and all the best examples of color in my price range are around the 1 ct mark most commonly lol.
The spinel is a little over 2ct. Setting by David klass. Awesome work. Love the pointed prongs.
The spinel is quite moody in color. It looks it's best in the shade of natural light where it's a gorgeous flashy red. And worst in the office lights where it's a murkier hue with more orange and brown modifiers. Over all though it's a lot of fun to look at, I might just a different ring for days I'm in the office a lot! It will be long time if ever when I can afford a spinel this size in my ideal color so in the mean time I'll have this beauty for statement and size and my smaller red spinels for purity of color!
Lots of pics coming up!