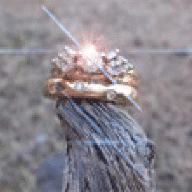 Joined

Mar 2, 2010
Messages

1,226
Ok, so I'm sure I've posted here before that I sew. And that I have an antique machine (Featherweight) that I love. Well, apparently vintage or antique sewing machines are like pieces of jewelry, and they can be addicting....Maybe VSMAS (Vintage Sewing Machine Acquisition Syndrome???)...anyway. I've been playing with the idea of getting another machine. This one maybe a hand crank or treadle (powered by your feet) or something that I could adapt into either of those, and maybe one of those cool cabinets. Well, trying to find one of these beauties in good condition, living here in the desert w/o paying a small fortune is apparently challenging. I was trolling Craigslist (as I do on occasion) and I saw two machines I was interested in. One was a treadle that was quite a bit more than I wanted to spend and the other was a cheaper electric model in a cabinet that was smaller than the treadle. Both were about the same age and were the same model (as much as I could tell from pictures).
So I debated. Posted pictures on a Vintage Sewing Machine site (yes I am that dorky), what the enablers thought. Asked mom what she thought. All said to go for the treadle. So I text back and forth with the seller. Pouted to DH that it was cool and I wanted it; to which he said "How many machines can you use at one time

(really what kind of question is this???
)....pouted some more. Hubby forced me to go watch shopping after he had consumed adult-type beverages

and he purchased the watch he had been eyeing for a long while (Watch guys: Tag Hauer Aquaracer Automatic w/blue face blahblahsomestupidwatchblahblah). And so it was during that trip I informed him I was going to get the treadle.
Fast forward to that evening. The seller said he had someone else (an investor) interested and they were going to come early Sun morning, after I had said I could come Sun afternoon to look
. Informed dh that we would be going Sat evening. We did and this is what we came home with: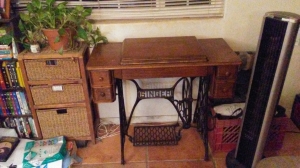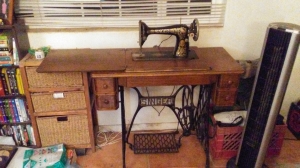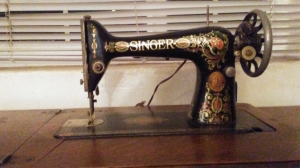 This was BEFORE I cleaned her off. I have since oiled all her parts (she was pretty stiff when I got her, now she runs much better), cleaned off all the wood with some Pledge with Orange Oil (made the cabinet LOOK SO BEAUTIFUL!), and have fixed the tension so she stitches beautifully. Now I did have to order a new belt but those run less than $10 so I'm pretty excited. In looking at Craigslist, eBay, and etsy this machine would have been well over the $125 I paid for it (there's another in worse condition on CL now for $125 and another in similar looking condition that is $250).
I'm excited