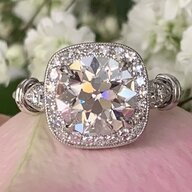 Joined

Jan 11, 2006
Messages

56,302
The reason I came here today is that it occurred to me this morning that I have two pair of empty platinum studs settings (after upgrading), and how perfect would it be to get lab diamonds for those and give them to my daughters!! Then I thought, I could get a larger pair of studs for myself without the upgrade cost! I have avoided lab diamonds because the prices I was seeing on places like
JA
were just too high! So I came to the MMD subforum and after only reading a couple of threads, I found Rarecarat and saw MUCH lower prices AND well cut stones! I am now extremely excited but have a few questions!
1) I have heard that certain lab grown material is superior to others. Is that something I need to be concerned about? Or is just seeing a video of stones adequate?
2) I'd be going with VS1 or higher on clarity, so I assume I don't need to be concerned about inclusions, right?
3) Are there any vendors on Rarecarat that I should avoid? I am familiar with Dimend Scaasi, for example, but I have not heard of With Clarity.
4) Do you order through RC or do you go directly to the diamond seller? Is there a better place to be looking? I saw mention of VRAI/Diamond Foundry, opinions?
5) Is IGI or GCAL more reliable than the other in terms of color, etc? As in, could I get a G stone that is IGI graded and a G stone that is GCAL rated and be confident that they will be close in color?
6) Anything else I need to know??? All advice is appreciated!
Last edited: