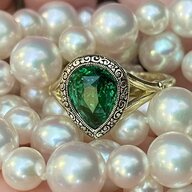 Joined

Mar 2, 2009
Messages

10,218
Just wanted to share my new solution to how to wear my diamond slide charm as a bracelet because I'm super psyched about it!
I have this two diamond charm that I wear sometimes as a pendant and sometimes as a bracelet since it's made as basically a slide charm. As a pendant, I wear it sometimes on a choker or a chain. And as a bracelet I had been wearing it on a leather bracelet but the bracelet was getting wear and tear from all my hand washing and getting kind of gross so I needed a more waterproof solution.
I found these silicone bands on amazon. 9$ for a 20 pack with numerous colors. I'm mostly going to use the black ones but I definitely see myself changing up the colors to match outfits or for specific occasions!! And these should
Definitely fair better under water!
So just wanted to share in case anyone else enjoys a slightly punk rock aesthetic