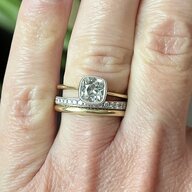 Joined

Aug 8, 2019
Messages

112
Having worn a cheap Etsy CZ bezel necklace nearly daily for years, I finally decided to practice my fledgling PS skills to buy myself a real diamond version. It was fun! I filtered the site to death, had a whole notepad of possibles, asked
JA
to send me all the certificates for the finalists, and checked HCA scores.
The winner is a petite .32 carat J SI2 from
JA
set in their yellow gold sliding bezel setting. I want to say it scored .8 on the HCA but don't quote me. The only inclusion was "clouds", so at SI2 I knew it could have haziness. As far as I can tell, it's just as sparky as my ring diamonds. And it's so tiny I'm not sure I could see haziness even if it was there. And, tbh, I wasn't that invested in getting better specs because I didn't want to, well, invest.
I had the chain shortened to 16" because that's the length that works for me. Man, am I bad at diamond pics! This was the best I could do but I included the link to the diamond. The pink tones are coming from my phone case. The back has a flower detail that I didn't love online but is super delicate and smooth in real life.
So anyway, that's my new bling! I loooooove these necklaces because I think they look so classy with everything.
10336564 - This 0.32 Carat Round diamond J Color SI2 Clarity has Excellent proportions and a diamond grading report from GIA
www.jamesallen.com