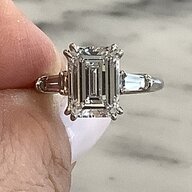 Joined

Mar 9, 2012
Messages

37
Hello all, I've had my dad's T&Co gold 7mm (approx) wedding band in my jewelry box for 14 years since he passed. I was cleaning some of my jewelry last weekend when I came across it again and thought it a shame that is sits hidden. It fits on my left finger and I thought I could make a sentimental project out of it with some melee from a band that my mom gave me. I've been gifted a few of her rings as her arthritis has left her fingers swollen and rings are uncomfortable for her to wear.
I was thinking of using the melee in her bands and gypsy setting them into dad's band so the I have a sentimental piece as a reminder of both of them. I was thinking of a "scattered" diamond style like Tiffany's Etoile band. I feel like I can finally wear something of his without tearing up when I look at it. He was the glue in our family, a Renaissance man with a kind heart. His interests and hobbies were so varied and unique including his love for gems. The loupe you see here was his, the one he had in his late 20s when his interest in gemstones and diamonds sparked from having worked near NYC's diamond district. He used to take us to every February to Tucson, AZ for the annual gem show and eventually set up a room in our basement with his lapidary equipment - saws, faceting and polishing equipment, lapidary tools, etc. Well heck, I'm tearing up now, but I know dad would appreciate a project like this.
Dad's ring is a US size 7, about 7.5 mm wide and I have a total of 22 melee diamonds to use between mom's two rings. Melee is .02mm each, F-G/VS. Only one ring with the melee is pictured here. I know I have her other ring (it was a set) with the rest of the matching melee but I can't find it at the moment.
Here's where you all come in. I was thinking of contacting David Klass for this project and was wondering:
1. If he'd be a good fit for this project. If not, any recommendations?
2. Should I try to use all the melee? I'm having a hard time picturing spacing. I'm almost willing to give him carte blanche on that element.
3. Any other design suggestions other than the scattered style using both the band and the melee?