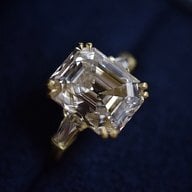 Joined

Jul 12, 2008
Messages

3,617
So I don't know if you guys remember my previous post on my emerald cut ring (
https://www.pricescope.com/community/threads/6-ct-antique-ec-with-fc-baguettes-kama's-10yr-anni-upgrade.243524/
)
But in that post I had mentioned that I was originally looking to upgrade my 2.5ct old mine cushion with another cushion. I meandered, but couldn't stop thinking of the emerald, so that's what I landed with. I kept my old 2.5ct OMC because I couldn't bear to part with my cushion.
Then, in March of this year I was in LA and met up with Grace from Jewels by Grace for lunch. She brought with her a gorgeous 6.49ct M VS2 OMB that I fell in love with! By the end of that lunch, I knew I couldn't give that stone back and decided to trade in my cushion right on the spot! However, I wanted the centre facets tweaked just a bit. Grace and I spoke to Anup at Jogani. Anup has a very discerning eye and knew just what the stone needed. He worked closely with his cutter and the resulting stone was HOLY F*CKING SHIT amazing! Sent to GIA and it was so blinding, that it came back as a 6.19ct L!
The beauty about old cuts is that they face up much whiter than modern stones. I cannot tell this guy is an L face up, with just a hint of colour in the body whilst looking at the profile. Typically I wouldn't consider a cape coloured stone, but this little guy was so incredibly lively and bright - an absolute chunky disco ball firecracker - and I am so glad I took a chance on it!
I sent the stone to David Klass to be set. I wanted a simple repro antique setting in platinum, but with a twist. DK and I worked on this setting and he executed it flawlessly! There are little marquise stones in the 'petals' and the milgrain is so fine! I am incredibly impressed with his workmanship and attention to detail!
I suppose I ended up with my cushion upgrade after all! I absolutely love both rings and feel so fortunate and beyond thrilled to have two stunning pieces in my collection!