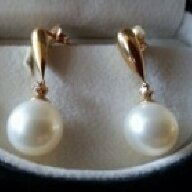 Joined

Oct 6, 2013
Messages

211
I have a very classic solitaire diamond engagement ring, platinum head and yellow gold ring + plain yellow gold wedding band, a pair of WF ACA studs (in platinum) and a rose gold chain with a pearl pendant that are my every day wearing items.

For my wedding anniversary a few years ago, my husband and I purchased a beautiful diamond from BGD blue range (which I now realise was very well priced) and set it in platinum. I tried to love it. I wore it once or twice . The white gold/light metal just doesn't suit me and I wasn't reaching for it plus it felt too big to wear as a pendant? (is 0.7ct).

What would you do with it? What could I convert it to? - I was thinking a ring but then I already have a (smaller) solitaire ring....