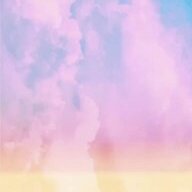 Joined

May 19, 2016
Messages

8
Hello lovely Pricescopers!

I've been lurking here off and on for almost four years, back since I began doing research on what kind of engagement ring I wanted. I always thought I would make my first post when I finally received my e-ring and could share about the process, but there were some minor snafus along the way (...the dealer I bought from sent me a diamond with different stats,
, which I only caught on my own later through pure chance) that soured the experience a bit and made me hesitant to share. I will definitely post about it someday -- this is a consumer protection forum after all-- but for my first thread I wanted to post something wholly positive! The past few weeks living under the shadow of the global pandemic have overwhelmed me with anxiety, but reading the posts here and seeing everyone's lovely treasures has provided a soothing escape and allayed a bit of my turmoil, so I thought maybe I could pay back the favor and finally share something lovely in return!
Back when I first joined PS, I wholly convinced that I needed a modern round brilliant, but a few weeks spent perusing old threads up into the wee hours here opened my eyes to the wonderful world of antique diamonds and I fell deeply in love, eventually ending up with a transitional center stone. Likewise, I was initially convinced that step cuts were Just Not My Thing, but only until I stumbled across threads on the Octavia asscher. I delved into the archives and read the original posts with Karl_K messing about with DiamCalc, the back and forth with him and Yoram and Serg, the surprise prototype that was eventually cut, the forum collaborating on the eventual name of the stone, and of course the SMTB posts of all the lucky Octavia owners. I was so delighted by it all! I was of course blown away by the aesthetics of the cut (the amazing light performance! the faceting, the tiny table, the high crown!), but also the geeky scientist in me was fascinated by how the whole thing came together, and I thought it was incredible that it was the product of a public collaboration between professionals and prosumers, a kind of representation of what makes Pricescope so wonderful to me in the first place. I told myself that someday I would love to own one, but I also discovered the supply of Octavias was (understandably!) scarce. I would passively watch the inventory at
GOG
and DBL to see if one with the right specs might magically pop up, but they were all below the size and color I really wanted. So in the meantime, I continued to occasionally moon over the lovely Octavias already posted here, and the one I probably stared at the most was
Dancing Fire's jaw-dropping 2.30ct I VS2 Octavia
. Not only did it have an incredible size for an Octavia (I believe it is the second biggest to ever be cut!), but it had my very favorite effect in a diamond, Very Strong Blue Florescence! I sighed to myself with envy, knowing that even if I could find another Octavia cut that big, the likelihood of pairing it was VSB flour was slim to none.
And so I just kept the Octavia as a dream in the back of my mind, until, one day, improbably....Dancing Fire decided to lose his mind and put his stone up for sale! I was busy with a course at the time and not checking Pricescope very regularly, but a friend who introduced me to this forum immediately put out our diamond bat signal, and I jumped on the opportunity! I have never made such a big impulse purchase in my life, but I really felt like it must have been fate for this particular stone to be offered while I happened to have the funds to purchase it, and so I took a chance. Happily enough, Dancing Fire and I only lived a few hours away from each other so we met up halfway in the lobby of a bank to complete the exchange in person. (My husband, who accompanied me, thought the whole process was hilariously sketchy and to this day continues to refer to her as my "shady drug deal diamond"). I was so tickled with the stone when I got it (I probably spent 20 minutes in the parking lot of the bank gazing at the VSBF in the sun and shifting the ring from side to side to show off all the amazing scintillation before my husband grew exasperated and made us start to drive back), but after that I admit....it just sat in my jewelry box. For over a year! Not due to lack of love for it, but life was busy with classes I was taking for the next few months, and the setting process proved to be....more challenging than expected.
So Dancing Fire gave the stone to me still set in
his platinum tension setting
, which was far too big for me (it even slid off my thumbs!), and though very dashing on him, was not precisely my style. I needed to reset it but wasn't sure exactly how. Should I indulge my halo obsession? Wear it as a plain elegant solitaire? Some sort of three stone? In the end I decided to just pick a designer I liked and have them run with their inspiration. So I began to put out feelers. The first designer, a trusted PS vendor, flat-out did not reply to me. I had bought a pre-made piece from them prior and they were fairly responsive then, so I was surprised and decided maybe they was just busy. I waited a few months, and contacted them again about another pre-made piece they was offering, and they got back to me promptly! We had a back and forth for a few weeks about an issue I had with that piece, and they continued to be attentive and lovely, but somehow, every email that contained any reference to doing a custom piece received no reply....so bizarre. I finally gave up on that and decided to contact a Japanese design house I liked.....no response. After I reached out a third time, the COO of the company finally sent me a reply, asked me for details of the stone and what my general vision was, and said he would have the artisan get back to me with some sketches. Well, that was well over a year ago and no one has contacted me since! I even met the master artisan of the house a few months later on a visit to Tokyo, who said he'd never heard my request but would make sure someone would follow up with me....but still, no dice. Sigh. So I reached out to a third vendor, also very well known and respected on Pricescope. I had actually met them at a trunk show years before and they was incredibly friendly, but over email....well, they was certainly extremely prompt in responding, but let's just say their disinterest in working with me was palpable. I was about ready to give up at this point -- Was I cursed? Did my emails smell bad or something?
But then, as I was browsing the archives one day, I stumbled on a post from mrs-b where she mentioned going to visit McTeigue & McClelland, who were willing to set a stone of hers. I was shocked, because I looooved Mc2's designs, but I knew they firmly stated that they did not work with outside stones. I had never even thought of them for the Octavia for that reason! But apparently they would consider it if the quality of the stone was high enough? Excited, I sent off an email, included some pictures and videos of the stone to hopefully prove its worth, and got a prompt, friendly response back. They'd be happy to work with my stone....but....they wanted me to visit their workshop....in Eastern Massachusetts. That was clear across the country from me! At this point though, what can I say, I was desperate, thrilled someone had finally said yes to me, and especially thrilled it was Mc2. There was a setting of theirs I had always loved that I knew would be just perfect for this stone! I had a visit to NYC planned in a couple months anyway, so when the trip rolled around, I set aside a day, rented a car, and drove the 3 hours to Great Barrington, MA (honestly it was kind of a beautiful drive and a very cute town so I can't complain too much!). They were a lovely bunch of truly kind people, and their atelier and the treasures within were fascinating and gorgeous. I dropped off the stone, made a final decision on the setting, and three months later-- voilà!
I know, I know, enough yap yap yapping, where are the pictures already. Well here she is: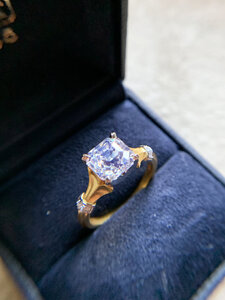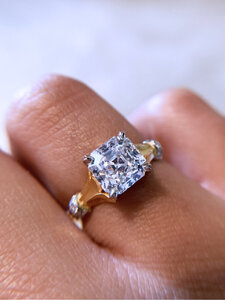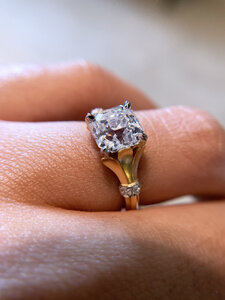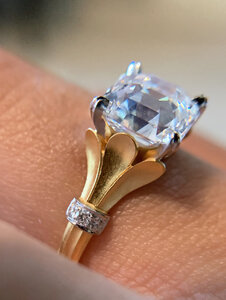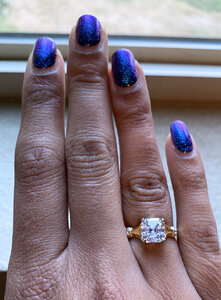 (Gotta excuse my grown out manicure and swollen fingers, I had just come back from vacation when the ring arrived but I had to wear it and take 100x pictures immediately!)
I chose Mc2's Trillium setting, which has three arced "petals" of bloomed 18K yellow gold each side and a platinum four-prong head. There was the option to add diamonds on the side of the head or on the petals, but I didn't want to compete too much with the center stone, and so only chose to accent the shank with two sets of pavé rondelles on each side. I'm not going to lie, this setting was E X P E N S I V E, but I really really love how it turned out. The deep, old-world look of the bloomed gold is stunning, the craftsmanship in general is impeccable, and I love the organic, fluid feel to the whole piece -- to me it is art. My favorite aspect: one of the things I love most about the Octavia is its high crown, but one of the downsides of the former tension setting that it seemed to mask it and flatten the diamond when I looked down at it. This setting in contrast acts like a pedestal, keeping the stone set low but giving the illusion of lift and showing off the crown in all of its puffy glory
I feel very lucky that I chose to get this made when I did -- at the end of last year, McTeigue & McClelland went out of business, which broke my heart a little bit, since they were masters of their craft and also genuinely sweet, thoughtful people. Will treasure this piece of their artistry for a long long time! (And sorry about the novel I just wrote! Guess I had 4 years of words to get out
)