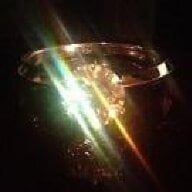 Joined

Apr 1, 2012
Messages

345
Hi ladies! I'm a bit ticked and need to vent. On Friday night while FH and I were entertaining some of his friends one of the ladies in the group asked to see my ring. She immediately said "Oh it's so sparkly and so much bigger than mine!". She then looked at her ring and told her hubby she needed an upgrade.
Immediately he became defensive and came over to my see my ring and said really loud "Yeah hers might be bigger but what's the clarity and color!!??".
Really? What a dumb sh*t.
Just because my ring is bigger automatically assume and try to embarrass me by stating my diamond was crap?
I replied by stating it was one color grade and clarity better than what it was. I kind of regret this though and should have just stated it was an F color or something crazy and clarity IF- I mean who the hell can tell honestly.
I hate rude people. Has this ever happened to anyone else or is my FH the only one with rude friends?