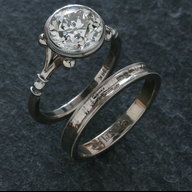 Joined

Nov 20, 2008
Messages

151
In 1976, for her 25th wedding anniversary my Mom got her diamond insert. Of course I told her how beautiful it was although in truth I did not care for it at all. The center stone was from her original ER, reset into a setting that would both match and fit the insert. Mom passed 8 years ago, as an "only" I inherited her ring. It has sat in my safe all these years, I would NEVER consider wearing it as is. I did take it to a local jeweler for suggestions of what we might do with the stones and all they were interested in was to buy the ring and sell me something from their inventory. That was not even a consideration due to the sentiment involved. To my untrained eye the stones do not look to be best quality but do have some sparkle.
Looking for suggestions, possibly necklace/pendant, or earrings. Can't do a RHR since I broke 2 fingers as a teen and the knuckles are big and a ring large enough to go over just spins.
In addition to the center stone (guessing about .50) there are 16 marquis and 16 round stones. Would welcome any all suggestions, designs, scribbles, etc. as well as recommendation to who could make it happen.