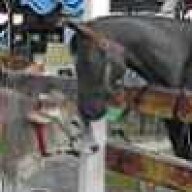 Joined

Apr 14, 2006
Messages

274
Fiance and I are getting married in Columbus, OH. That''s an hour north of where my dad''s family lives and an hour south of where most of my mom''s family lives. It''s about four hours from where C''s family lives (they''re from PA). I have some other relatives that will be coming from out of state as well.
We''re getting married at a restaurant (also where the reception will be), so we can''t rehearse the night before the wedding. I was thinking we could do a late morning rehearsal and then get meat/cheese/fruit/etc trays for the people involved to munch on instead of doing a full blown rehearsal dinner. The restaurant has a theme night every Friday, so we''d have to be done by 5 or so I think.
Then the wedding would be Saturday afternoon/evening. I was thinking that since we wouldn''t be doing a full blown rehearsal dinner it might be nice to invite the out of town guests that will still be around Sunday morning to go to brunch (at the same restaurant though).
It''s a 40''s WWII themed restaurant that plays a lot of blues/jazz/etc. We''re having a live band for the reception and will have a buffet type of deal with a couple of meal/side choices available. The brunch is normally very good, with waffles/fajitas/omelettes/shrimp/etc, my family has been going there for brunch over 15 years, I''ve never been there for dinner before.
This is the restaurant... http://www.94thaero.com/
So, my questions are:
1. Do you think that the rehearsal luncheon would be tacky? I was thinking this way out of town guests could head out Saturday morning and make it in plenty of time as well, and would probably be staying until Sunday morning anyway.
2. Would brunch on Sunday be overkill? I don''t want everyone to feel obligated to come or like we expected everyone to devote a whole weekend to our wedding, I was really just thinking it''d be nice to get to visit with family/friends once the stress of the wedding day was over...we won''t be having a honeymoon so it''s not like we need to rush off to go somewhere!
3. Would having the brunch at the same restaurant be overkill? The food should be completely different, but I don''t want people to be bored. It''s a neat place though, and I love spending time there, but I don''t want people to be bored, lol.
4. Any other suggestions/advice?
A couple of other things...I was thinking that it''d be nice to be able to spend a quiet evening together for our last night as non-husband and wife, and to get to sleep early. Plus we''ll need to go back to the restaurant the next morning anyway, to undecorate. So, thoughts? Thanks a lot!!!