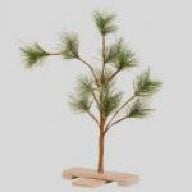 Joined

Jan 18, 2012
Messages

566
So I've been wanting a small faint brown budget diamond to set in RG as a stand-in engagement ring (a role currently filled by a round 4.5mm simulant-which-shall-not-be-named... I wear it all the time and it makes me sad it's not a diamond!). I think I'd do it collet-bezel-set, on a 2-2.5mm split shank, set east-west, and usually worn flanked by two 1.5mm plain RG bands.
I fell hard for the color of this one, and its price ($890 for 0.72ct, about 4x6mm) too.
https://www.jamesallen.com/loose-diamonds/emerald-cut/0.72-carat-k-color-vs1-clarity-sku-2107407
The diamond is in India and
JA
can't get an ASET. The gemologist - whom I found thoughtful and helpful - said:
"It has great play of light, and I'm not seeing anything that makes me think that light leakage will be an issue...
The brown tone might make it look a little less bright than a white diamond, but I think it's going to look beautiful in a rose gold setting."
My biggest concern is that the facets under the table look less contrasty than some of the other ECs (not sure I buy blaming the brown tint for this), which I worry translates to light leakage.
What would PS do? This color is so hard to find! Anything else on
JA
- faint brown, with that rosy hue - that would be a better option? I'm pretty open minded to different cuts, except do not want a MRB, princess, or crushed ice anything. Budget is $1500 or so.
ETA: I've put the stone on hold so it's not really gone.