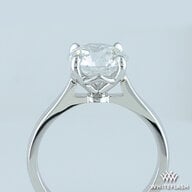 Joined

Jun 8, 2021
Messages

19
Hi,

I have 2 3/4 Annette rings that I wear with my e-ring. Platinum setting. The plan had been to wear them all the time, but one has already been sent back because it came out of round, this can happen apparently.

WF

were great, but still I don't want it happening all the time. It is a comfortable ring to wear. By it's nature it will rub on your other fingers but that is not uncomfortable. As a result of the ring going out of round I do not wear these on my busy round the house working days, or anything that requires me to me careful what I'm doing with my hands. I still love the rings, but I am very conscious of not damaging them. I certainly see the prongs on the ring, a U prong ring and there is no getting away from them, but they have never bothered me from a visual perspective. The diamonds in mine are 10 pointers.
Hi
@DiamondBaby
,
Thank you so much for sharing. May I know the platinum of yours is Pt/Ir mix or Pt/Ru mix?