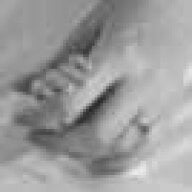 Joined

Feb 20, 2003
Messages

2,573
I purchased my 0.91 ct diamond solitaire pendant from
Whiteflash
in 2008. I have finally decided to splurge on diamond stud earrings. I am trying to figure out a pleasing proportion for earrings and pendant. I think the pendant diamond should be at least a little bit larger than each earring diamond, but I am not sure by how much.
I first tried on 1.0 and 1.5 tcw studs at Tiffany. I thought 0.5 ct in each ear looked a little small, and .75 ct looked really big, so my initial thought was something around 1.2 tcw. Then I tried on more pairs in more stores and the .75 ct diamonds didn't look so huge on my ears anymore. (DSS happens fast, lol!) I love the look of at least 0.80 ct (6 mm) in each ear. Of course, 0.90 ct (6.2-6.3 mm) in each ear looks really great too, but I don't want the stones to be all the same size (I think).
I even had the completely insane thought of finding a match to my current 0.91 ct pendant stone to make earrings, and later buying a larger diamond to replace the pendant. It seems a bit crazy to spend that much (at least $5-6K more than just buying two 0.80 stones). Also, how large would I need to go with the pendant if I have 0.9 ct (6.3 mm) in each ear? Would something in the 6.7-6.8 mm range be enough larger to be a noticeable difference?
I appreciate any advice because I am driving myself nuts.
For reference, here is the info on my pendant.
Carat Weight: 0.91
Color Grade: F
Clarity Grade: SI2 (eye clean)
Measurements: 6.28 - 6.30 x 3.82 mm
GIA Cut Grade: Excellent
Depth: 60.7 %
Table: 57 %
Crown Angle: 34.5°
Pavilion Angle: 40.6°
Girdle: Medium, Faceted
Culet: None
Polish: Very Good
Symmetry: Very Good
Fluorescence: Medium Blue
HCA score: 0.9, within the TIC range, EX/EX/EX/VG