Hello everyone!
I am new to the pearl world and I am thinking to get a pair of 8-8.5mm Akoya earrings and 7-7.5mm (or 6.5-7mm) necklace strand. I have thoroughly enjoyed reading everyone's informative posts and
@yssie
's helpful advices. I have decided to go with Takahashi instead of PP for my first purchase. Moline's gem grade are definitely gorgeous but seems like they are over my budget.
for reference, I am 30+ with Fair warm Asian skin tone, 5'3, 46kg. I also have a smaller neck. 14 inch necklace sits around my collar bone.
Takahashi has sent me pictures of the necklace strands. I am struggling to see which one to pick. Please help!
I am still waiting for the earrings pictures and will upload those when I get them.
I think I prefer white akoya with slightly pink and silver overtone (not strong pink or green or ivory). Looking for sharp luster, strong contrast, and visible iridescence within my budget.
Here are my questions:
1. For 7-7.5mm top grade, is that the a reasonable price for that quality ($15xx for "top grade minor flaw"? Which strand would you pick? They said this is the best luster they can find in this size.
2. They are out of top grade 6.5-7mm, so they sent me some second grade ones ($6xx for 1st sets photos, $65x for the second sets). To me, for some reason the 6.5-7 second grade seems to have a more yellow base? The second sets looked too yellow and strong pink to me. Between the two set, I prefer The color tone more with first set, however are they with less luster compared to the more expensive 6.5-7? are they significantly "inferior" than the top grade 7-7.5mm? Which 6.5-7 strand would you pick?
They have also provided me with picture of top grade 6-6.5, seem to have most luster among all but they are just too small for what I am looking for.
3. I can't decide if I should go with top grade 7-7.5 or second grade 6.5-7, the price of 7-7.5 is 2.3x more than the 6.5-7.
Thank you so much for all your input in advance!
top to bottom:
6-6.5 top grade (too small for my choice)
6-6.5 second grade (not considering)
6.5-7 minor flaw (first set*)
6.5-7 minor flaw (second set*)
*6.5-7 first set is slightly cheaper than the 6.5-7 second set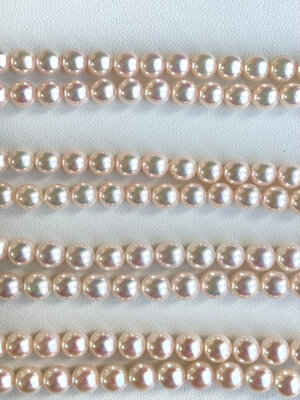 7-7.5 top grade with minor flaw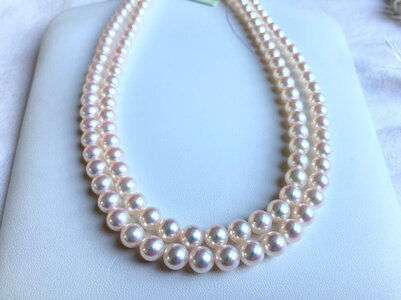 7-7.5 to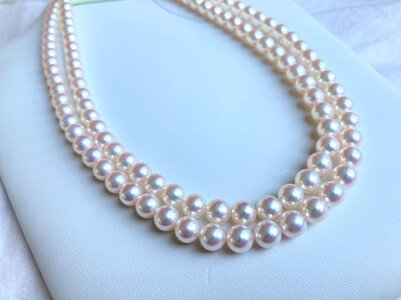 Top 7-7.5 top grade with minor flaw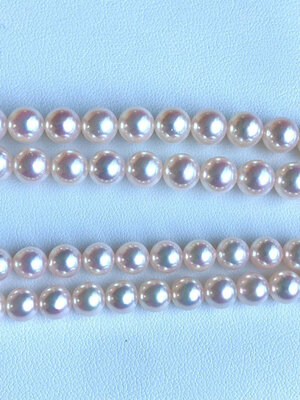 6.5-7 second grade (first set, cheaper than the other 6.5-7)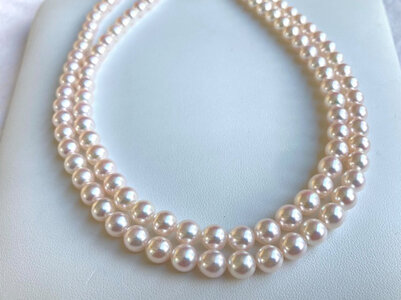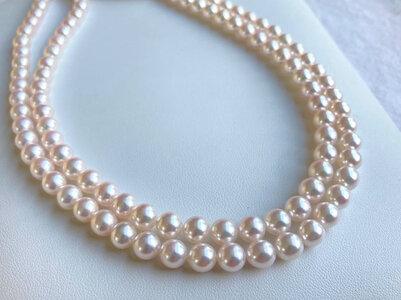 6.5-7 second grade (refer as second set, slightly more expensive than 6.5-7)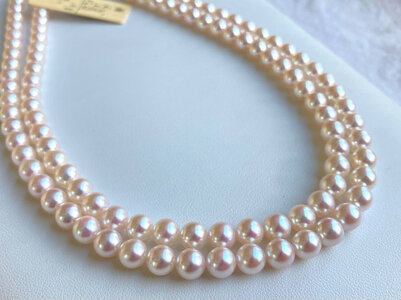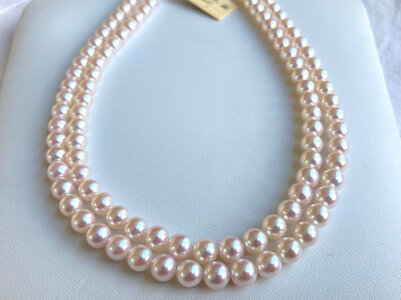 6-6.5 top grade (I have taken it out of my consideration since the size is too small, but uploaded pictures for comparison of luster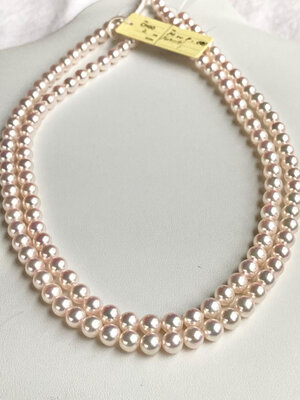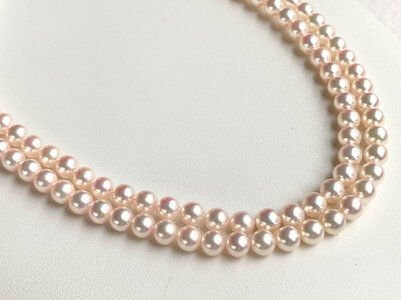 i was inspired by this photo's necklace
(Love the 6.5-7mm size in here and the white silverish Tone)