Joined

Apr 10, 2007
Messages

53
Hello PS,
I finally got my three stone cushion ring from David Klass today and while much of it looks amazing in person, I have two concerns. First and most important, the main diamond is set too low. I measured it with my digital caliper and it is showing as 5.54 mm high. The original CAD had it at 5.7 mm and I had asked to change that to 6 mm. I went with 6 mm because I own a three stone aquamarine setting that is set at 6 mm high, so while low, it still appeared high enough to me and wears comfortably. Now seeing it in person, I'm pretty sure that a half mm increase might still be too low. My diamond is 4.83 mm deep and to me at 5.54 mm, it looks like my diamond is literally sitting on my finger. My old cathedral setting was way too high for sure, but this really low height makes my diamond look much smaller from all angles in my opinion (not just from the top/front). What would you all consider a medium height for my size diamond? The dimensions are 7.94 x 7.58 x 4.83. It is a 2.06 ct cushion. I asked if 6.75 mm might be possible, but I don't want to be Goldielocks and go from too low to too high. I also don't want to have any more changes after this.
Second, what do you all think of the metal showing behind the shield sidestones. My original design and inspiration photos did not have metal baskets showing behind the sidestones but looking back at the CADs that were sent to me, those do. However, I didn't realize the metal would be showing. I thought it was just shown in the CAD so I could see where everything was. I figured that during the setting process, the basket would be fitted to the sidestones like I've always seen on the majority of rings. In fairness to David, the more I looked at the pics with the metal showing, it kind of grew on my and I started to think that I might really like it in person. I thought it might make my ring look unique and the edges of the shield would be softer and curved instead of straight like the rest of the aspects of my ring. It's also much more subtle in real life. However, looking at it in person, it may take away from the shields by making them appear more like pears, which aren't as rare. I'm also not sure if it makes the sidestones look too big and again make my center stone look smaller. I had emailed my concern about the metal right after I got the ring and David promised me if I wasn't happy with the look/effect that I could send it back and he would adjust it at no charge to me.
This has been a long process and David has provided me with wonderful customer service, but I really wish this was done and I was 100% happy with the final product.
Any help/advice would be much appreciated. I've attached pics/CADs as appropriate. Please help!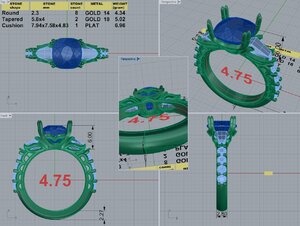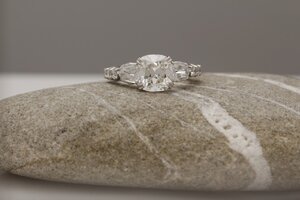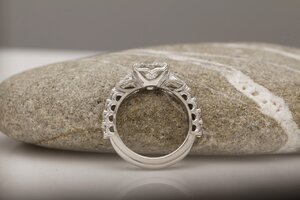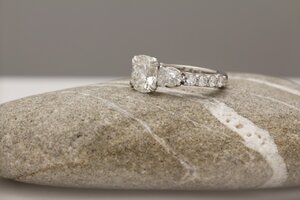 These are two of the inspiration pics from rings he previously made and neither of these had the metal showing behind the sidestones. Though those were rounds and trapezoids.