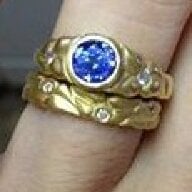 Joined

Jan 23, 2008
Messages

3,517
Hello again PS CS community!
The time has come to let my AVR go and my husband would like to put a CS (not blue sapphire) in its place. My AVR measures
Width: 7.47mm
Length: 7.45mm
Depth: 5.04mm
Budget-$500 or less
Colors I like-bright greens, color change stones, rubies (unlikely I know so a nice red stone in general), rich purples, neon colors,etc. I'm fairly open as long as the color is bright and lively and will fit into my setting
I haven't found much-but I also don't have a whole lot of time to hunt. Needs to be fairly hardy too-I'm a bit of a clutz! Unless I can get an opal to fit into my fishtale prong setting (unlikely?) then I'll baby it since I adore opals.
In an ideal world it would be a precision cut, but for the size I need I realize that's unlikely. Not sure if lab created is the route I should go to get more bang for my buck? I realize that's likely a no no to most of you guys, but like I said-I'm pretty open. Hubs wants me to wear my old set as a RHR
Ready, set SHOW ME WHAT YA GOT (please!)
Also-I'm not sure if a cab would fit in my fishtale prong setting? I'll be sending my ring to
GOG
and they'll be setting whatever you all help me find
Thanks SO MUCH!