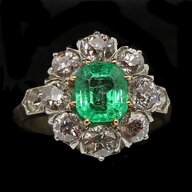 Joined

Jun 1, 2020
Messages

209
Hi, all,

Firstly, I am not certain if this is the right area of the Web site to ask about lab-created coloured stones; I looked but couldn't find a specific spot for that. If PriceScope isn't even the right place in general for this question, then I apologise deeply and would like to be pointed in the right direction. I'm new here and desperate not to step on any toes.

I found a place that sells lab-created stones: gemsngems.com

Is this site reputable?

I also stumbled across chatham.com.

I really appreciate any help you can offer. I am in the process of designing my dream emerald ring. I cannot afford a natural stone in the size I want so I am looking to the lab for help there. I am planning to set the stone with natural diamonds in platinum. I'll need help there, too, but for now I want to find the main stone first.

Thank you all very much for your help, and again, I am really sorry if this isn't the right place to ask this question.